Stressed and unrelaxed while coding ? Try some ultra-deeply-relaxing ASMR audio clips. It will change your life. Seriously.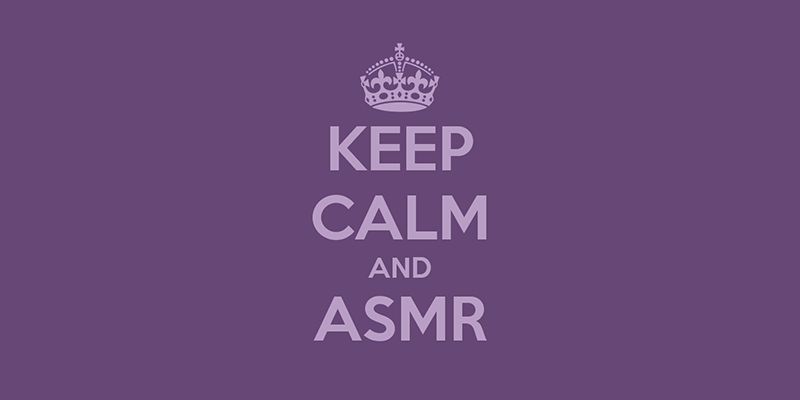 Do you remember your first professional massage – and that weird, extremely soft and relaxing feeling you had, this strange easyness in body AND mind that lasts for days ? It's fascinating how even a 65 year old, tattooed 180 kilogram guy in a dark chinese backyard can make you feel very very comfortable by just pressing and moving your neck. In case you never experienced this: Do it now. Or tomorrow. It's awesome. From medical point of view, the dramatic physical impact on the body has been proven in thousands of studies, and also the psychological change is widely accepted, however it's still unclear why massages – that are totally non-sexual – trigger such an super-smooth mental state, especially when done by people you'd usually never let you touch your body.
ASMR – Autonomous Sensory Meridian Response
Do you love it when you are falling asleep and it rains on the outside, when your partner reads a book loudly – or not so loudly – next to you or when you can hear the soft talks, the glasses and dishes from the Café in your street at night ? These smooth, non-annoying background noises ? ASMR is the next – and very different – step in this "relaxing sounds" thing, bringing in a very close human note: Usually young people – mostly women – with very soft voices talk and whisper about completely content-less stuff. In a very very soft and relaxing kind of way, very narrow to the microphone, sometimes even using left and right stereo channels to whisper "into one ear", usually "playing" common situations, like being at the hairdresser, describing food they just bought at the supermarket or reading old magazines very slowly.
This might sound weird, but it feels very very very very good. So good and relaxing that's it's kind of creepy why this happens, especially when you listen to this stuff with headphones. Even more when trying to fall asleep. Some people say it has a sexual context, but ASMR is extremely popular among women, so it's definitly not just a sub-sexual thing. According to lots of blog articles and comments it's also extremely helpful for people who have to deal with sleeping problems. Extremely helpful.
ASMR might be awesome for developers. Get your best noise-blocking headphones, turn down the light a little bit and give it a try. You might be surprised. Also note all the positive comments under nearly every clip, something that is rarely seen these days.
https://www.youtube.com/watch?v=yMsLGO7q6LY